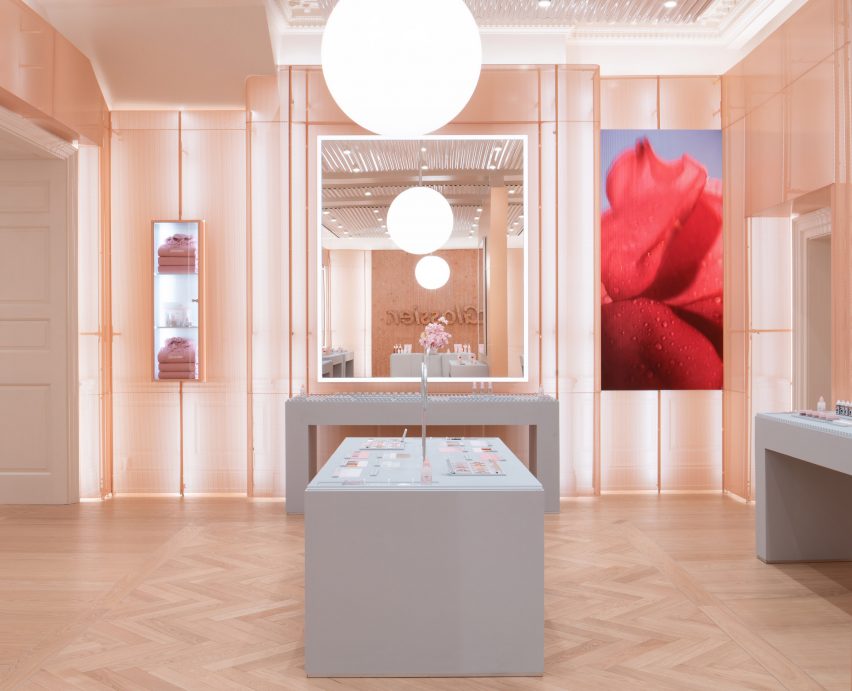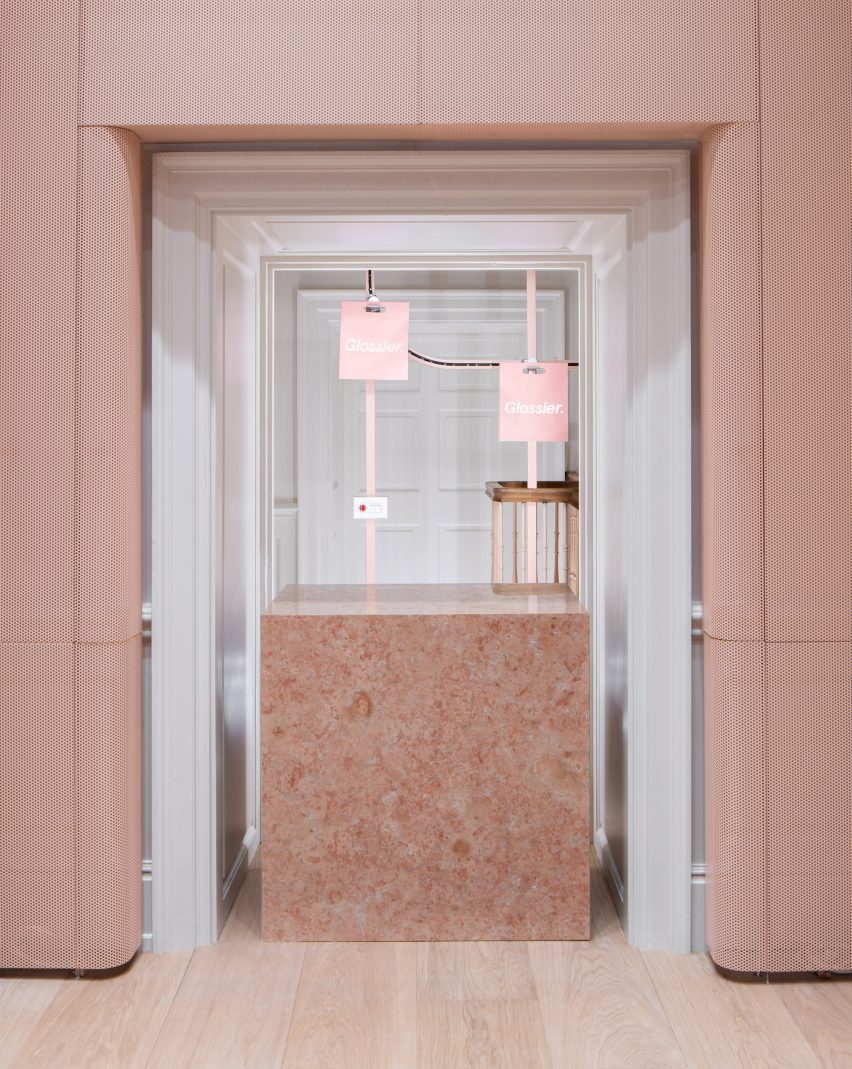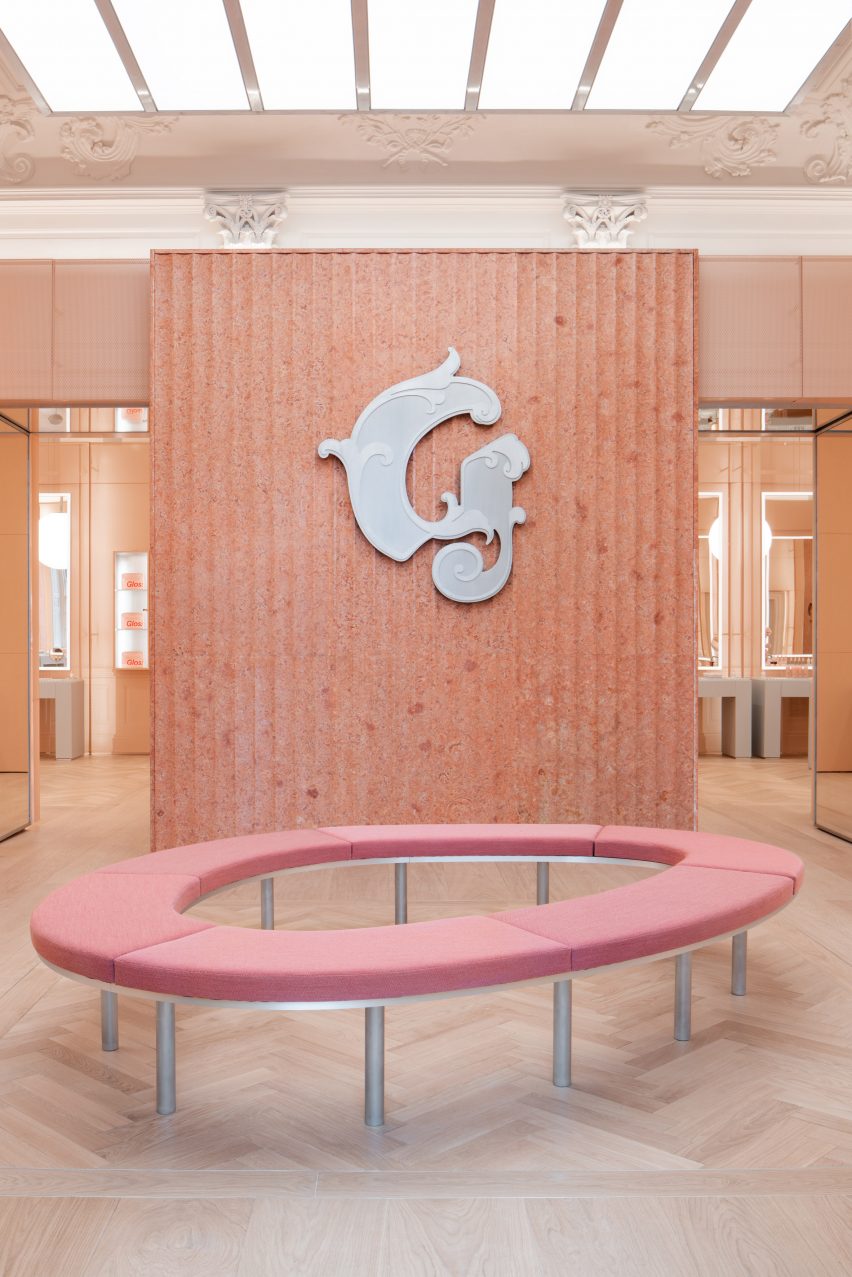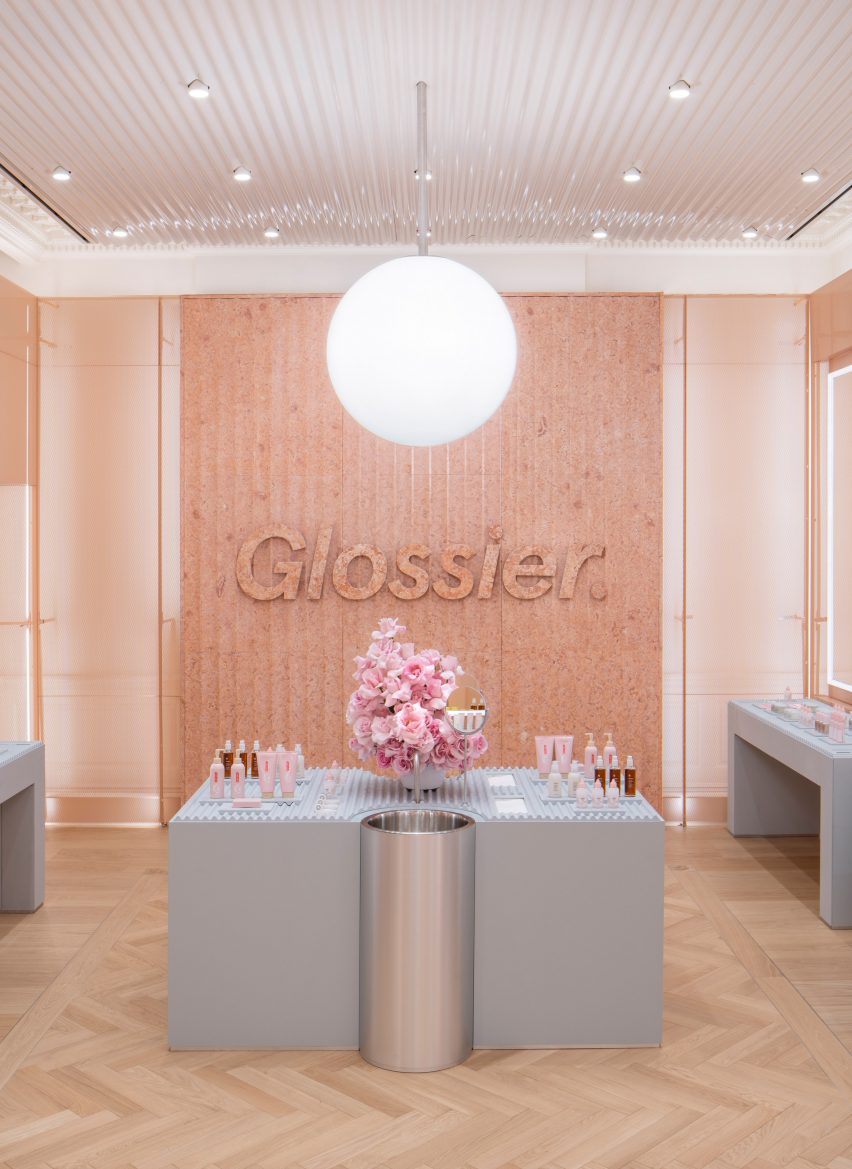 Health & Beauty
Glossier | London | London
43 King St, London WC2E 8JY, Verenigd Koninkrijk
Glossier opens London flagship in Covent Garden's oldest building
American beauty brand Glossier has opened its first international flagship store in London's Covent Garden neighbourhood, featuring an ornate logo designed to reflect the shop's historical location. Glossier London is located at 43 King Street, a 17th-century townhouse in Covent Garden said to be the oldest surviving building in the piazza, and was created by the brand's in-house design team.
As the

beauty

brand's first flagship store outside of the US, Glossier intended for the shop to strike a balance between maintaining the intricate design details of the historical townhouse while also rooting the interiors in the brand's trademark modern style.
Visitors enter the store through a seven-metres-tall grand foyer where they encounter a large "G" for Glossier, designed in ornate silver-coloured calligraphy that nods to the grandeur of the building. "We took inspiration from the architecture and rich history of this particular townhouse, the oldest in Covent Garden," said Adriana Deleo, Glossier's deputy creative director and head of its in-house design team. "Inside you'll notice modern takes on the traditional features of the townhouse like Glossier G rosettes laid into the wood floor, or beautifully ornate cornice details that we incorporated into our logo," she added. "We even developed perforated pink metal walls, so that you can see the original building details behind them, creating a sleek illuminated veil."
The Glossier logo at the store's entrance sits above a round bubblegum-pink bench, which is surrounded by various undulating marble accents. Light-hued wooden parquet flooring adds a modern touch against the building's original arches and cornices.
After entering the foyer, visitors can test and buy makeup and other cosmetics at an expansive beauty space that is also designed in various shades of sugary pinks and browns. The space also features Glossier's signature "You Look Good Mirrors" found in existing stores and a versatile "wet bar" that holds various testers of the brand's products, illuminated by overhanging bulbous pendant lights.
White vases of pink roses are positioned in the beauty space where they contrast against modern artworks, including an overly-saturated abstract photograph of flower petals that hangs on the wall. Glossier London's opening follows the beauty brand's pop-up shop that was positioned on Covent Garden's Floral Street in 2019, which was adorned with brightly-coloured floral wallpaper as an ode to the shop's location.
Founded by Emily Weiss in 2014, originally as an e-commerce site, the Glossier brand has a small number of other bricks-and-mortar stores in America. These include a recently opened shop in Los Angeles with gigantic, billboard-style lettering on its facade that takes cues from the world-famous Hollywood sign.
Glossier | London
43 King St, London WC2E 8JY, Verenigd Koninkrijk

Rating
Must sees in London
12 Mount St, London W1K 2RD, Verenigd Koninkrijk